Heroines Editions #3
Konzert mit dem Ensemble Mosaik
Sat 30.October I 20.00 pm
Villa Elisabeth, Invalidenstraße 3, 10115 Berlin
Tickets 15 / 10 €, available HERE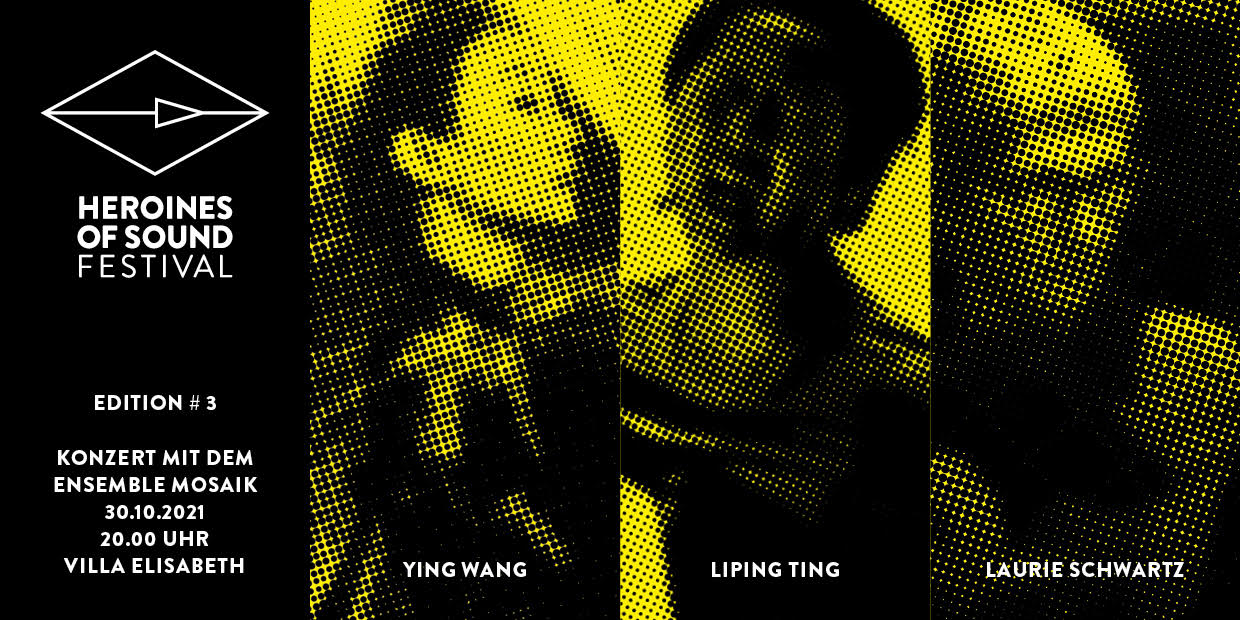 Heroines of Sound rounds-off the season with another highlight. ensemble mosaik takes center stage presenting a concert by contemporary composers that extends from electronics, performance, and audio/visual media to socio-critical topics. The focus is on world premieres of new works by Laurie Schwartz, Liping Ting and Ying Wang.
The experience of the pandemic, of a hermetically sealed society, is met head on by the artists with a view toward the open world, taking up topics of censorship/oppression as in Ying Wang's DIS-A, contemplating isolation and communication in a ritualistic performance as in Liping Ting's OOO-intime, or as in Laurie Schwartz's Outtakes from the Dangerous Women Files, shedding light on historically marginalized protagonists of culture and politics, challenging existing norms.
PROGRAM
Ying Wang — DIS-A (WP)
commissioned by Heroines of Sound Festival*
for ensemble and video
Gabriele Stellbaum — video
Laurie Schwartz — Outtakes from the Dangerous Women Files
# 1 the heroines (WP)
for vocalist/performer, amplified bass flute, violin, cello & objects, audio playback and video
Anna Clementi — vocalist/ performer
Jana Linke — costume design
Laurie Schwartz — Outtakes from the Dangerous Women Files—
#2 the deeds (WP)
commissioned by ensemble mosaik
for tap dancer, bass flute, violin, cello, sampler, live electronics, audio playback and video (UA)
Katie Kelly —dance
Marco Accardi —software development
Liping Ting — OOO-Intime (WP)
for bass oboe, cello, synthesiser, live-electronic and performer
Liping Ting — voice/ performer
*commission financed by
ensemble mosaik:
Maruta Staravoitava – flute, Simon Strasse – oboe, Christian Vogel – Klarinette, Roland Neffe – percussion, Ernst Surberg – piano/keyboard/synthesizer, Chatschatur Kanajan – violin, Karen Lorenz – Viola, Mathis Mayr – cello, Arne Vierck – sound direction, Eckehard Güther – video operator, Clemens Kowalksi, streaming operator
produced by
in cooperation with
supported by
Media partners