HEROINES OF SOUND FESTIVAL 2019
Frühe und aktuelle Held*innen elektronischer Musik
12.-14. Juli 2019
Radialsystem
Holzmarktstraße 33, 10243 Berlin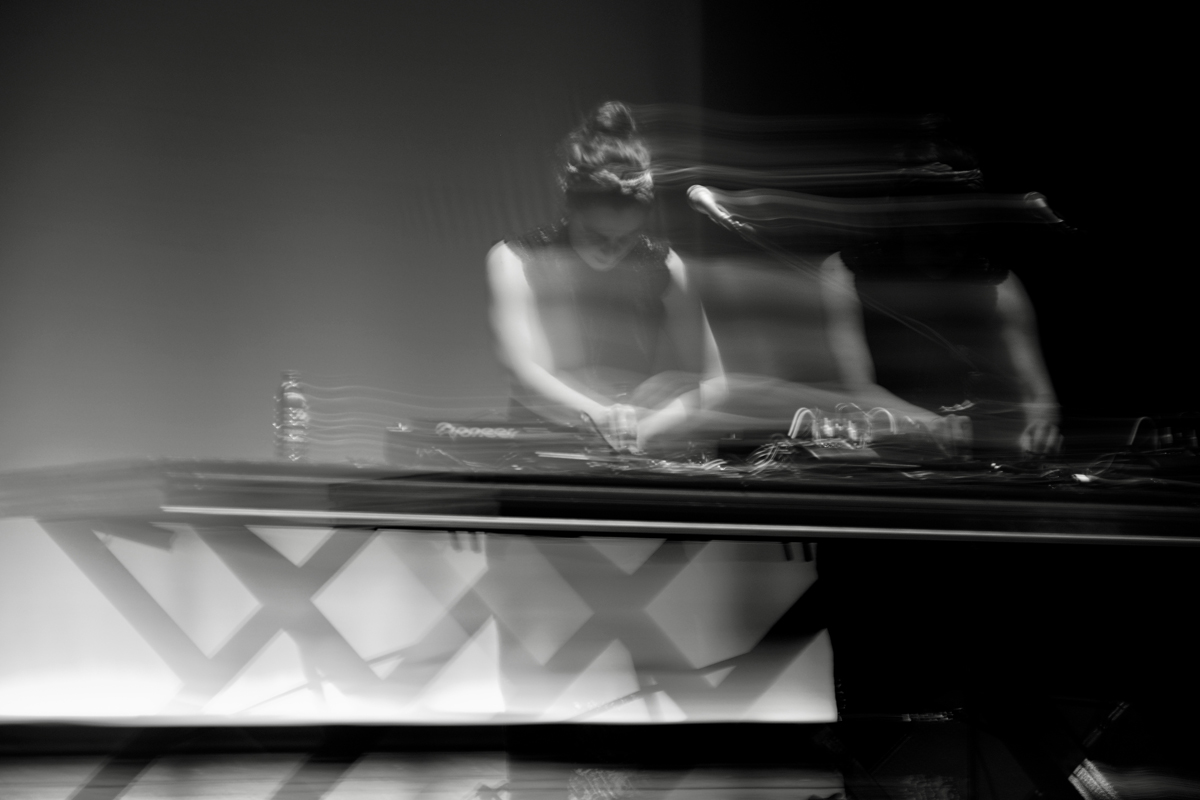 Antye Greie aka AGF (FI/DE) / Elsa M'bala (CM/DE) / Carola Bauckholt (DE) / Annesley Black (CA/DE) / Charo Calvo (ES/BE) / Ale Hop (PE/DE) / KSEN. (HR/DE) / The Lappetites (GB/DE/JP) / LUX:NM (DE) / Laura Mello (BR/DE) / Sukitoa o Namau (MA/FR) / Judit Varga (HU) / Oxana Omelchuk (UR/DE) / Lisa Streich (SE) / Maja Osojnik (SL) / Gabriele Stellbaum (DE) / Andrea Szigetvári (HU) / Irena Tomažin (SL) / Márta Murányi (HU) / Chica Paula (CL/DE) / Tatiana Heuman Qeei (AR/DE) / Zavoloka (UR/AT)
Vom 12. bis 14. Juli präsentiert Heroines of Sound im Radialsystem zum sechsten Mal seit 2014 dem Berliner Publikum frühe und aktuelle Held*innen des elektronischen Sounds.
Mit mehr als 30 Künstler*innen aus 14 Herkunftsländern thematisiert das Festival 2019 Grenzen und Grenzüberschreitungen, die künstlerisches Terrain erweitern und ästhetische Normen in Frage stellen.
Angesichts zentraler Konflikte wie Migration und Xenophobie hinterfragt die aktuelle Komponist*nnengeneration dezidiert territoriale Grenzen und normative Ordnungen mit progressiven und gesellschaftskritischen Ansätzen.
Exemplarisch dafür stehen Annesley Blacks Scrap und das partizipative Borderless von The Lappetites.
Ein Fokus richtet sich in diesem Jahr auf Künstler*innen aus Ungarn und Slowenien, die internationale Berliner Szene ist mit der aus Kamerun stammende Klangkünstlerin Elsa M`bala, Ale Hop (PE/DE), KSEN. (HR/DE), Paula Schopf (CL/ DE),Tatiana Heuman aka Qeei (AR/ DE), Laura Mello (BR/ DE) und Kaffe Matthews (GB/DE) vertreten.
Die Konzerte und Performances werden ergänzt mit Panelveranstaltungen, einer Film-und Soundbar mit Beiträgen von u.a. von Maryanne Amacher, Eliane Radigue, Fågelle, Beatriz Ferreyra und Elisabeth Schimana sowie Videoinstallationen von Gabriele Stellbaum.
Aus der Szene gewachsen und als deutschlandweit einziges genreübergreifendes feministisches Musikformat prägt "Heroines of Sound" die internationale Debatte feministischer Aufbrüche in der Musik entscheidend mit und ist einzigartig in der europäischen Festivallandschaft.
Im Rahmen des Festivals 2019 präsentieren die "Heroines of Sound" ihre neueste Publikation, welche die Vielfalt elektronischer Musik abbildet und einen Überblick über aktuelle Komponist*innen und Musiker*innen des Genres vermittelt. (Heroines of Sound. Feminismus und Gender in elektronischer Musik, hg. v. Sabine Sanio / Bettina Wackernagel, 216 pp., photos, paperback, Wolke Verlag, 978-3-95593-119-3).
www.wolke-verlag.de/musikbuecher/sabine-sanio-bettina-wackernagel-heroines-of-sound-book
Künstlerische Leitung: Bettina Wackernagel
Ko-Kuratorinnen: Antye Greie-Ripatti, Sabine Sanio
Produktion: Heroines of Sound
Ko-Produktion: Radialsystem
FÖRDERER
Hauptstadtkulturfonds, Die Beauftragte der Bundesregierung für Kultur und Medien Berlin, Musicboard Berlin
KOOPERATION
female:pressure, Transparent Sound Festival, City of Women Festival, IMA, Musica Femina-Creative Europe I EU
MEDIENPARTNER
Ask Helmut, Digital in Berlin, Exberliner, Gonzo Circus, Groove, Missy Magazine, MusikTexte, Spex, taz,die tageszeitung, The Wire, tipBerlin