Heroines of Sound 2020
Live digital Stream at July 10th – 7pm to midnight from radialsystem Berlin
in cooperation with unitedwestream / ARTE Concert
Link zum Stream >
LINE-UP:
Dorit Chrysler (US/AT) // Midori Hirano (JP/DE) // Alexandra Cárdenas (CO/DE) // Donna Maya (DE) // The LIZ (US/TR/DE) // JD ZAZIE (IT/DE)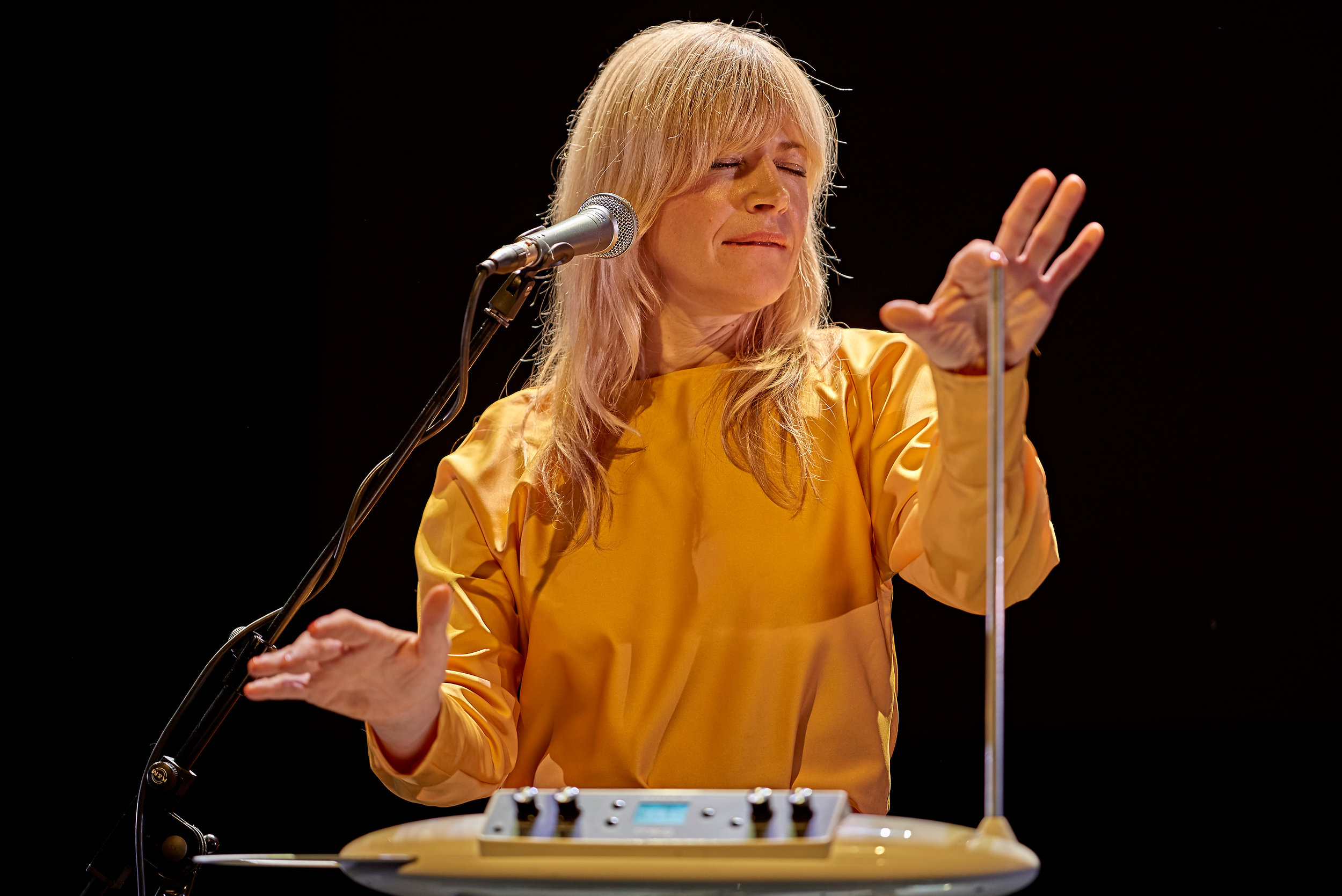 Due to the Corona Pandemic the 7th edition of Heroines of Sound Festival has transformed from IRL into URL on Arte's United We Stream platform on Friday July 10th, from 7pm to midnight.
Just as before, the festival highlights a selection of cutting edge sounds from hero*ines of in the electronic music landscape from Berlin's international scene. The artists showcase a broad range of styles and techniques and represent not only a wide array of aesthetics, but encourage the audience to re-think current sound practices and investigate new forms of dialogue.
As 2020 celebrates the 100th anniversary of the Theremin, a musical instrument controlled without physical contact, Heroines of Sound invites two virtuosos of the instrument, Dorit Chrysler and Donna Maya. In addition we will showcase a brand new commissioned composition from Midori Hirano who celebrates the release of her album Invisible Island with piano and live-electronics. The Liz, an international ensemble, will also playfully cross genres surrounding experimental jazz. Alexandra Cárdenas, a protagonist of the international algorave scene, combining algorithm and rave, we experience a new model for club nights based on live- programmed sound and visuals, and JD Zazie will also perform her new album Memory Loss recently release on Burp Publications, redefining DJ and electroacoustic activities by playing live with a cd player, turntable, hard disk electromagnetic sounds, corrupted audio data and field recordings.Expect some mind-blowing performances of innovative contemporary electronic music bundling strains of noise, jazz, field recordings juxtaposed with alluring experimental pop. Emerging on the scene as Germany's only genre-spanning feminist music forum, Heroines of Sound has a decisive impact on the international debate surrounding feminist currents in music and is unique in the European festival landscape.
Credits
Produced by Heroines of Sound
Artistic Director Bettina Wackernagel
Co-curators Dorit Chrysler und Sabine Sanio
Supported by the Culture Capital Fund and the Berlin Senate for Culture and Europe.
In collaboration with radialsystem, United We Stream, Arte Concert, Clubcommission Berlin, female:pressure, Institut für Medienarchäologie (AT).
Media Partners: Missy Magazine, ALEX Berlin