Sound Art – Radialsystem
July 6–9, 2023 // Studio C
Stefanie Egedy
BODIES AND SUBWOOFERS (B.A.S.) 4.0: EXT (2023)
Subwoofer and Sub-bass sonic installation using 4 KS28 L-Acoustic Subwoofers and Analog Synthesis
6 July: 17.30 and 17.45, 19.30 and 19.45, 20.30 and 20.45
7 July: 17.30 and 17.45, 19.30 and 19.45, 21.00 and 21.15, 23.00
8 July: 17.30 and 17.45, 19.30 and 19.45, 21.00
9 July: 15.30 and 15.45, 17.30 and 17.45, 21.30
July 6–9, 2023 // Foyer
Catherine Lorent — Relegation X (2023)
Live Performance with 7 Gibson Explorer, customized E-Bows, Interface and Midi Device
8 July: 23.00 – 23.30
9 July: 20.15 – 20.45
________________________
July 6–9, 2023 // Studio C
Stefanie Egedy — BODIES AND SUBWOOFERS (B.A.S.) 4.0: EXT
Subwoofer and Sub-bass sonic installation using 4 KS28 L-Acoustic Subwoofers and Analog Synthesis
6 July: 17.30 and 17.45, 19.30 and 19.45, 20.30 and 20.45
7 July: 17.30 and 17.45, 19.30 and 19.45, 21.00 and 21.15, 23.00
8 July: 17.30 and 17.45, 19.30 and 19.45, 21.00
9 July: 15.30 and 15.45, 17.30 and 17.45, 21.30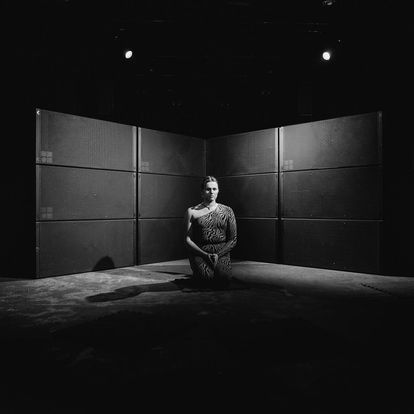 Building upon the idea and practice of a ›vibrational experience‹ and the therapeutic effects (reduction of stress and anxiety) of low-frequency sound and subwoofers, Stefanie Egedy has created a body of work entitled »Bodies And Subwoofers (B.A.S.)« – a series of site-specific installations and concerts with compositions produced for each location. She analyzes the specifics of the room, arranges subwoofers and selects low-frequency sound waves, taking into account sonic characteristics such as resonances and reverberations that are created in interaction with the architecture of the room, and their transparency, which can only be perceived in a tactile manner. This stimulation for the whole body invites us to get in touch with different kinds of vibrations and to be shaken by them. The physical and perceptual effects remain a field of experimentation. The sound massage is felt and heard on the skin and in the body, it gives the feeling of being touched and embraced by sound waves. The invisible touch of sound.
Stefanie Egedy is a composer of conceptual pieces and electronic music, and investigates sound in both installations and live performances. She is focused on researching the potential of low-frequency sound, bodies, and subwoofers— including bass, sub-bass, and infrasound—and their spatial presence. Egedy co-runs the label COISAS QUE MATAM (THINGS THAT KILL), researches light-sound relations with Camille Laurent, and worked with Chris Salter on his latest spatial production. She has worked with and exhibited in Berlin at CTM Festival, Berghain, and KW Institute for Contemporary Art as well as at Harvard University in Massachusetts, Kunstfest in Weimar, and Zentrale in Vienna. Egedy is part of Creative Europe's SHAPE+ artist roster for 2022-2023.
________________________
July 6–9, 2023 // Foyer
Catherine Lorent – Relegation X
Live Performance with 7 Gibson Explorer, customized E-Bows, Inteface and Midi Device
8 July: 23.00 – 23.30
9 July: 20.15 – 20.45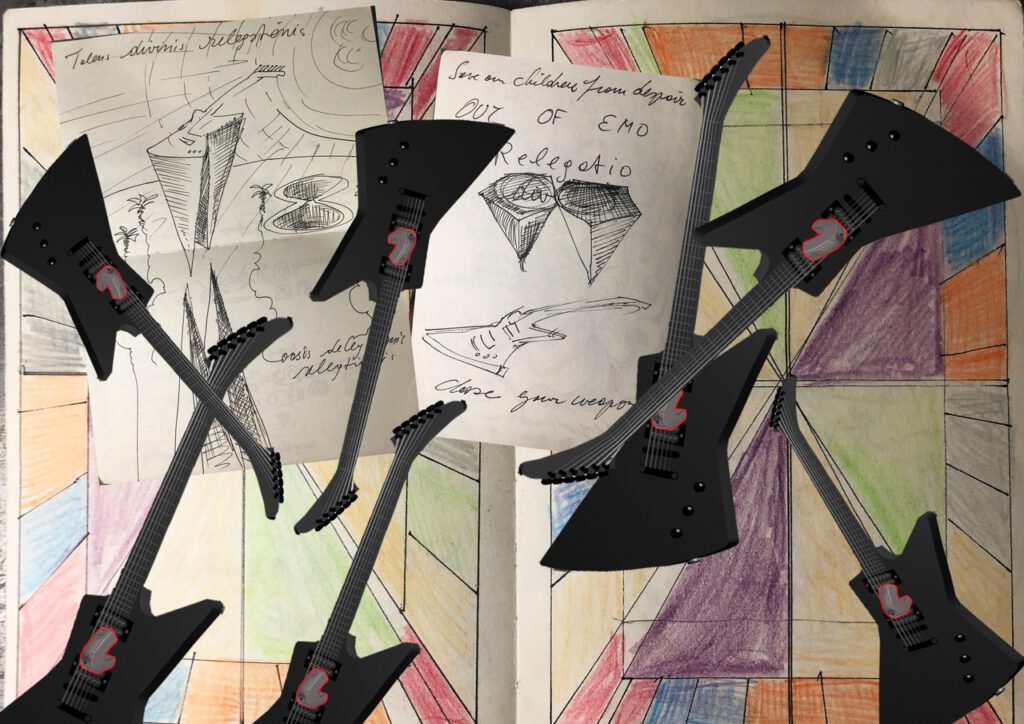 »Relegation X« for 7 guitars is a new version of the expansive sound installation that Catherine Lorent first realized in 2013 for the Luxembourg Pavilion at the 55th Venice Biennale. For this visually and acoustically charged installation, the artist worked with an expanded baroque concept of art that exposes the contradictions of the modern western way of life and questions dialectical thought. The title refers to the longstanding rejection, or ›banishment‹, of the baroque from the history of art, nowhere more so than in Venice, where late baroque architecture was stifled in its development by ›anti-baroque polemics‹. Contrary to similar baroque-averse tendencies in the current Berlin art canon, Lorent's work posits the formal vocabulary of baroque, which is often dismissed as absurd, wasteful and pathetic, as a central reference point. In the installation, spectators are encouraged by its participatory components to give free rein to their own creativity and respond to the artist's idea with a subjective reinterpretation. Walking along the installation, spectators unwittingly set off a series of electric guitars via an electro-magnetic control system; each of the guitars generates a sustained sound thanks to the use of the EBow.

Catherine Lorent, born in Munich, is a Luxembourgish artist who combines visual art with music and performance. She experiments with a number of instruments, including electric guitar, drums, bass, piano, harmonium, and voice, while pursuing her music projects Gran Horno and Hannelore (with Tom Früchtl). She first studied painting at the State Academy of Fine Arts Karlsruhe and went on to study history and art history. In 2012 she graduated with a PhD in art history from the University of Luxembourg. Lorent, who has exhibited extensively in Europe, was nominated for the 2011 Robert Schuman Prize in Luxembourg and won the Prix Grand-Duc Adolphe in 2022. She lives and works in Berlin.
»Relegation X« In collaboration with sound engineer Christian Neyes, supported by Gibson guitar.